VISION STATEMENT
With Critical thinking skills and tools, we will seek a richer quality of life.
Beh já a ha neh go, t'áá'íiyisíí yéégo nitsahakeesgo, dóó behlí beh náásgo niha'ałchíní iiná bił bééhóózin dooleeł.
MISSION STATEMENT
The Naatsis'Aan Community School will empower our students to be curious about seeking a relevant and meaningful education foundation, so they can become lifelong learners.
HEADS UP PARENTS & GUARDIANS
UPCOMING EVENT
NCS Students will be participating in the KID'S DAY Celebration on Oct. 6
Bus will depart NCS Parking Lot at 7:00 AM
School will not be in session Oct. 7, 2022.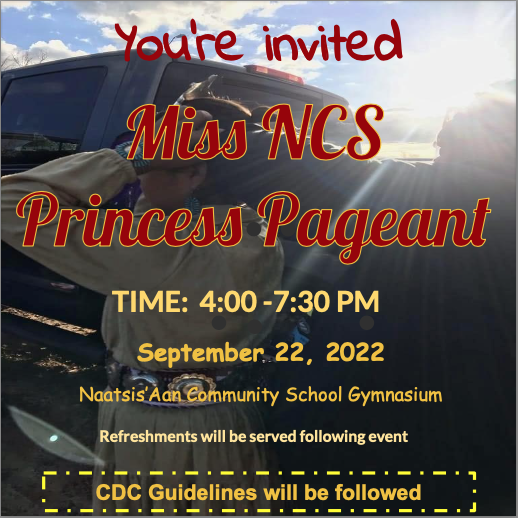 Come join us for this exciting event!
We have six contestant!
Check out their talents!
AND HERE ARE THE RESULTS OF THE NCS PRINCESS PAGEANT!
2nd Runner Up - Mya Dayzie
1st Runner UP - Arlene Gishie
Winner - Navaeh Greymountain
CONGRATULATION!!